Information of facilities
City or town hall has also health care ( promoting) programs providing adults with health checkups. Fujimino-shi and Miyoshi-machi prepare annual health caring calendar and distribute every household in March to April every year. In Fujimi-shi , monthly schedule of health care program appears in City bulletin gKoho Fujimih

May ,2017


You can get the calendar or city bulletin at public health center, city or town hall, or its branches.
As your own expenses for checkups are different in city or town, please contact the section in charge.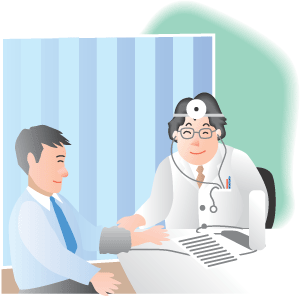 19-1
Individual health and medical examination
You are advised to take health checkups at the city or town designated medical institutions from June to the end of November.
(1) Lung cancer and colon cancer checkup are for adults of 40 years or older
(2) Carcinoma of the cervix checkups are for women of 20 years or older
i3j Stomach risk cancer check-upiABCD test) are for those who were born from April 2nd, 1977 to April 1st,1978
(4) Adult dental checkup ( periodontal prevention check-up)FEligible age of adult is different in cities or town.

¦
As to@Hepatits virus checkup, please contact city hall (town hall)

›
Free coupons for breast, cervical and colon cancer checkups.
City hall (town hall) sends free checkup coupons to citizens eligible for this program.
Please refer to enclosed notice.
19-2
Group health and medical examination
In every city and town, stomach cancer, breast cancer, and prostate cancer checkups are included. Please contact the section in charge.


yInquiryz
œFujimi-shi Kenkozoshin CenterFtel.049-252-3771
œFujimino-shi Hoken CenterFtel.049-262-9040
œMiyoshi-machi Hoken CenterF tel.049-258-1236