Information of facilities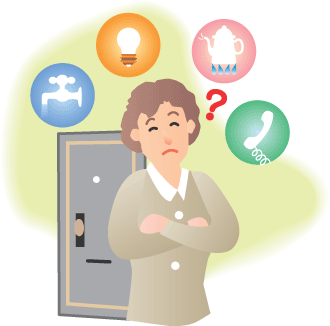 5-1
Water services
(1) Requesting water services
Before you start using water, you must notify the office of city hall or town hall.

(2) Bills
Water consumption is checked once every two months and bills for water and swage treatment are sent to you. You can pay by account transfer or at the designated place such as bank, convenience store, city hall (town hall) or its branch office by cash.
(3) Canceling water services
If you cancel water services, notify the following inquiry office five days before you move. You can pay the difference of bill by drawing on your account, by statement of payment, or by cash.
yInquiryz
œFujimi-shi Okyakusama CenterFtel.049-251-2711
œFujimino-shi Suido Service CenterFtel.049-220-2077
œ Miyoshi-machi Jyoge Suido Ryokin centerFtel.049-274-1014
(4) Plumbing problem
If there is a problem with your plumbing, contact the city designated repairing company.
yInquiryz
œFujimi-shi Suido-ka Kyusui-tantoF tel.049-251-2711
œFujimino-shi Jyogesuido-ka Suidoshisetsu-kakariF
tel.049-220-2078
œMiyoshi-machi Jyogesuido-ka Suidoshisetsu-tantoF
tel.049-274-1014
5-2
Electricity
Contact Tokyo Electric Power Office (TEPCO) when you start using , cancel electric services, or if electric failure occurs. In Fujimi-shi and nearby cities, electricity is supplied at 100 volts, 50 hertz. Before you start using electricity, you should apply to the office with post card available at the breaker box in your house. When you cancel the electric services, contact the office 4 to 5 days before you move.
(1) Bills


You can pay a bill collector at your home, or at banks, post office, convenient stores, or TEPCO office, using the payment slip sent to you. You can also pay by account transfer.


yInquiryz
œShiki business office of TEPCOFtel.048- 476- 4551
5-3
Gas
Two kinds of gas, city gas and LPG are used in Fujimi-shi. City gas is piped to the house, and LPG is stored in cylinders near the house. There are no compatible appliances for both of them, so misuse is very dangerous. Please use the correct appliances. For more information, contact LPG supplier nearby your house or the town gas company.


yInquiryz
œDaito Gas head office(Miyoshi)Ftel.049-259-1111
œDaito Gas Fujimi service Corp.Ftel.049-252-2131
œBushugasu Co. Kamifukuoka service centerFtel.049-261-0337
5-4
Telephone
(1) Installation
Apply for a new installation at a NTT office. For inquiry for new installation, call 166 in Japanese or call 0120-364-463 NTT information center in English.

(2) Directory assistance
For telephone directory, call 104 in Japanese. You need to pay for this service.
(3) International call
Oversea calls can be made in two different ways: dial calls and operator-assisted calls. KDDI, NTT communications, Japan TELECOM and POWEREDCOM currently offer international telephone services.

(4) How to call overseas
To call overseas, dial company code-country code-area code- local number
œCompany Code
NTT CommunicationsFi010jAKDDIF001AJapan TELECOMF0041APOWEREDCOMF0081